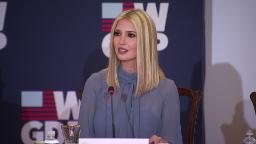 Trump's decision to leave Washington, first reported by
The New York Times
, disregarded the federal coronavirus guidelines advising against discretionary travel that she has urged other Americans to follow.
"Ivanka — with her immediate family — celebrated Passover at a closed down facility considered to be a family home. Her travel was no different than had she been traveling to/from work and the location was less populated than the surrounding area near her home in D.C.," the official told CNN in a statement Thursday.
The official continued, "While at Bedminster she has been practicing social distancing and working remotely. Her travel was not commercial. She chose to spend a holiday in private with her family."
The family drove from Washington to New Jersey, the official told CNN.
Trump's husband, Jared Kushner, was at Bedminster for Seder, but is no longer there. Trump has remained there for Passover, which ends this Thursday evening.
According to the Times, Trump has continued to work from Bedminster, while Kushner has returned to the White House to help the President with the government's response to the coronavirus.
The official did not respond to CNN's question on whether any extended family members were present for the Seder.
While it's perfectly legal to travel between states, Trump chose to leave her Washington home to go to a state that is currently a "hot spot" for coronavirus. New Jersey has the second-most reported cases and deaths in the US.
Though Trump was spending time with her husband and children, their travel entails US Secret Service and local law enforcement resources during a challenging time.
This story has been updated to include additional reporting.
Related Posts