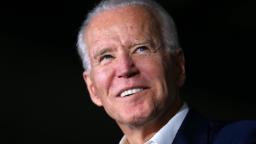 Biden's haul marks his strongest fundraising month of the campaign and a significant leap from the
$18.1 million
he had collected in February. His aides said 70% of his donations last month came through online contributions.
Biden, however, entered the general nomination fight still lagging behind President
Donald Trump
and the formidable fundraising apparatus the President controls with the Republican National Committee. Trump's campaign previously announced raising more than $63 million with RNC committees in March and said its various fundraising arms entered April with more than $240 million stockpiled in its war chest for the general election.
In an email, Biden thanked his supporters for propelling him to a "historic comeback victory" that saw him emerge as this party's presumptive nominee this month after losing the first three contests of the nomination fight.
But he warned that a campaign and world upended by the coronavirus outbreak could make it harder to compete financially in the weeks ahead.
"I know that April may not match March in fundraising, and that's okay by me," Biden wrote. "The world has changed a great deal. It's unrecognizable at times."
"But if you can give this month, I hope you will," he added.
Rufus Gifford, a Biden supporter who served as finance director for President Barack Obama's reelection campaign, called the March numbers "impressive" and said Biden's team "will be in good shape versus Trump and the Republicans" once the campaign establishes a joint committee with the national party and starts "running a full-on general election campaign."
The Democratic National Committee on Monday reported raising $60.8 million in the first quarter and $32.6 million in March — the best March since 2012.
This includes money raised through its Democratic Grassroots Victory Fund and a single, $18 million boost as the campaign of former presidential candidate Mike Bloomberg transferred funds to the DNC to support the party's infrastructure.
The party committee started April with more than $35.8 remaining in the bank, its filings show.
Presidential candidates, political parties and super PACs faced a midnight deadline Monday to file March fundraising reports with the Federal Election Commission.
Discussions are still underway between the Biden campaign and the DNC about forming a joint fundraising committee.
Several of Biden's former rivals are lending their fundraising networks to the former vice president.
Sen.
Kamala Harris
of California held a virtual fundraiser with Biden earlier this month. Former South Bend, Indiana, Mayor
Pete Buttigieg
and Sen.
Amy Klobuchar
of Minnesota are set to hold virtual events for the former vice president in the coming weeks, sources familiar with the events say, with both Democrats sending fundraising emails on Biden's behalf since their endorsements in March.
In a television interview hours after announcing her endorsement of Biden, Sen.
Elizabeth Warren
of Massachusetts, who shunned traditional high-dollar fundraisers and relied on small-dollar, grassroots donors during her campaign, encouraged people to head to Biden's campaign website and "chip in your five bucks."
A network of Obama alumni is hosting a virtual fundraiser for Biden on May 1 with tickets ranging from $250 for guests, $1,000 to co-host and $2,800 to sponsor.
"Metaphorically, he clinched the nomination an hour ago. It takes a lot of time to build an operation but there's a tremendous amount of energy there," said Orin Kramer, a Biden fundraiser who previously raised money for Buttigieg.
Kramer said fundraising also could receive a boost from "the existential importance of removing Donald Trump."
With Biden sidelined from traditional fundraising and campaigning by the outbreak, outside groups backing his candidacy began lobbing TV ads attacking Trump weeks ago — much of it focused on the President's response to the coronavirus pandemic.
One group leading the charge against Trump, the Priorities USA Action super PAC, and its affiliated nonprofit arm have set a $200 million fundraising goal. Officials say they have raised or secured commitments for $126 million.
In March, the Priorities super PAC raised just shy of $4 million — with a political group affiliated with the League of Conservation Voters donating $2 million of the total, according to Priorities' filings Monday with the Federal Election Commission.
Another Pro-Biden super PAC, Unite the Country, collected $10 million last month, its filings show. Two donors — billionaire hedge fund founder James Simons and hotel chain magnate Stewart Bainum — accounted for half the sum, donating $3 million and $2 million, respectively.
CNN's Dan Merica contributed to this report.
Source: CNN
Related Posts