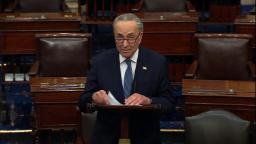 The New York Democrat's effort to push such legislation tees up another confrontation with the White House over how best to handle the federal response to the outbreak, this time concerning the administration's last-minute
decision to feature the President's name on the checks
.
"President Trump unfortunately appears to see the pandemic as just another opportunity to promote his own political interests," Schumer said in a statement Monday.
"The No PR Act puts an end to the president's exploitation of taxpayer money for promotional material that only benefits his re-election campaign," he added. "Delaying the release of stimulus checks so his signature could be added is a waste of time and money."
Schumer's office says that the Senate minority leader would like to include legislation preventing names, likeness or signature of Trump from being included in the next round of Covid-19 response aid.
Politico
first reported on Schumer's plans to introduce the act.
When asked about his name appearing on the checks during a briefing earlier this month, Trump said, "Well, I don't know much about it, but I understand my name is there. I don't know where they're going, how they're going."
"I'm sure people will be very happy to get a big, fat, beautiful check and my name is on it," the President said, adding that "it's not delaying anything."
Schumer also called on Monday for called for public Senate hearings into testing shortages and implementation of stimulus law, urging Senate Majority Leader Mitch McConnell to "instruct his Committee Chairs to immediately begin vigorous and desperately needed oversight of the Trump administration's response to the COVID-19 pandemic and its implementation of the CARES Act."
Schumer and Trump have previously clashed over the President's invoking the Defense Production Act last month to compel General Motors to produce more ventilators for increasing coronavirus hospitalizations.
Schumer urged Trump to name a new point person for management of the Defense Production Act and disparaged Trump's pick of White House trade adviser Peter Navarro as the act's policy coordinator for the federal government.
CNN's Manu Raju, Katie Lobosco, Devan Cole, Jim Acosta and Jason Hoffman contributed to this report.
Source: CNN
Related Posts