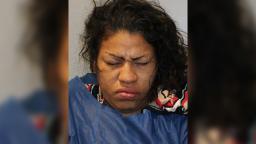 CINCINNATI — When COVID-19 started making people stay away from each other and closing down businesses, one woman used her creative side to dress for the occasion.
Karen Lukes spent a month making a plague doctor costume with a skirt to help enforce the social-distancing mandate.
"I thought the apocalypse would look different," Lukes said. "I was like, 'Oh plague mask,' and then the bird-like beak of that made me think of a petticoat cage."
Lukes said the work was tedious at times, so to help get over those ruts she changed her pace and made something different.
"I took a break to make a couple hundred masks," Lukes said. She donated the masks to LADD Inc., a local organization that provides help to developmentally disabled adults.
Karen also took a "break" from the costume creation to make masks – 230 of them! She donated them to LADD, a local organization that provides services to developmentally disabled adults. She has fabric cut & prepped for 600 more! @WCPO pic.twitter.com/0wLGdFgsEs

— Ally Kraemer (@AllyKraemer) April 30, 2020
Once the costume was finished though, Lukes did what anyone would do after all that hard work; she donned her costume and went grocery shopping at Jungle Jim's.
Yes, some people stared, but Lukes said she didn't mind and most people were really friendly.
Now, Lukes is thinking about taking her costume out more often.
"I think instead of taking walks around my neighborhood, I will take dramatic walks around my neighborhood."
window.fbAsyncInit = function() { FB.init({
appId : '1374721116083644',
xfbml : true, version : 'v2.9' }); };
(function(d, s, id){ var js, fjs = d.getElementsByTagName(s)[0]; if (d.getElementById(id)) {return;} js = d.createElement(s); js.id = id; js.src = "http://connect.facebook.net/en_US/sdk.js"; fjs.parentNode.insertBefore(js, fjs); }(document, 'script', 'facebook-jssdk'));


Source: CNN
Related Posts