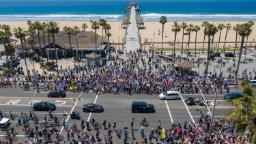 The decision to wear or avoid them in the middle of the coronavirus pandemic signals whether people have chosen to adhere to
public-health guidelines
— a stress that's playing out on personal and political levels.
For some, the tension over face masks has resulted in great personal loss. On May 1, Calvin Munerlyn, a security guard at a Michigan Family Dollar store,
was shot to death
while reportedly enforcing the state's policy to wear face coverings in enclosed public spaces.
"This is senseless. Over a mask. Over a mask?" Tina James, Munerlyn's cousin,
told CNN affiliate WJRT
. "This is not the way to do things right now. We need to come together."
Percolating beneath the more general pandemic stress is a political divide cleaving us over the role of government, science and even truth.
Conspicuously, most weren't wearing face masks.
"The Confederate flags and nooses, the swastikas, the, you know, behavior that you've seen in all of the clips, is not representative of who we are in Michigan. And the fact of the matter is, I mean, we're in a global pandemic," she said, adding that "we need to listen to the expertise and our institutions of higher learning and our health system and make decisions that are going to protect the lives of everyone."
Crucially, there are people who obey or ignore medical authorities' recommendations without intending to advertise their political opinions. Moreover, some have legitimate reasons for being wary of wearing face masks.
That said, as parts of the country contemplate reopening, it's hard to ignore how these strange times have transformed face masks from tools to promote public health into statements with political valence — and with very real consequences.
This story has been updated to include reporting on the Family Dollar store shooting.
Source: CNN
Related Posts