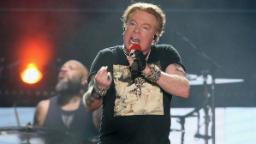 "It's official! Whatever anyone may have previously thought of Steve Mnuchin he's officially an [a**hole,]" Rose
tweeted
Wednesday night.
Less than two hours later, Mnuchin hit back at Rose, with a now-deleted tweet "What have you done for the country lately?" that some pointed out included an emoji of the flag of Liberia. Mnuchin
tweeted
the snarky response again and included an emoji of the American flag.
Rose took a jab at Mnuchin's flag mixup and responded, "unlike this admin I'm not responsible for 70k+ deaths."
"My bad I didn't get we're hoping 2 emulate Liberia's economic model but on the real unlike this admin I'm not responsible for 70k+ deaths n' unlike u I don't hold a fed gov position of responsibility 2 the American people n' go on TV tellin them 2 travel the US during a pandemic," he tweeted, apparently referencing Mnuchin's comments during an interview with Fox Business Network on Monday.
Mnuchin said during the interview it was "too hard to tell at this point" when asked if he thought international travel would resume this year, but added "this is a great time for people to explore America."
CNN reached out to Mnuchin's office for comment on the tweets, but has not received a response.
It is unclear what made Rose go after Mnuchin, but the singer is no stranger to openly criticizing President Donald Trump and his administration.
Related Posts