A smile that's face-wide, and doesn't hide his pride and stride. It's a smile that showed just how much a Wilkes County man enjoyed his 23rd birthday.Evan Daemer celebrated his "Jordan-year" birthday on May 5. Unfortunately, the COVID-19 pandemic ruined other plans of celebration at Smoot Park. Evan usually has his birthday there every year and invites all his friends from school and Special Olympics.None of that this year, but not having a birthday party wasn't an option.Evan has down syndrome and birthdays to him are very special, his family says. "Evan absolutely loves cars. He can identify the make and model of a car from miles away. We posted a Facebook status about everyone sending him birthday cards since we were not able to do a party. He received over 70 plus cards and packages," said Felisha Daemer, Evan's sister. "We then thought a car parade would be perfect for him." The Daemer family says they had seen other families doing parades for their children's birthday; so, that gave them the idea to do the same. "People showed up to the parade that we didn't even know," said Felisha. "They just saw the Facebook post and showed up! There were about 15-20 cars packed with people screaming 'Happy Birthday!' as they drove by. Evan was so happy to see everyone driving by and wishing him a happy birthday. He even cried from happiness."For Malinda Reeves Church, who knows the family through her son, being there for Evan was emotional, heart-warming, and remarkable."Oh my goodness! I can still see that sweet smile and I get Jesus bumps," said Church. "A smart lady once told me that children with down syndrome know nothing but love. Evan is awesome and so is his family. I have a grandson, who will be five in November, and he too has down syndrome."Officers from the North Wilkesboro Police Department and firefighters from the North Wilkesboro Fire Department all joined with friends and family members to celebrate in a car parade."This quarantine has been so rough on everyone. I can only imagine how tough it would be to have a birthday and not have friends and family to gather in celebration. I was happy to participate and help spread a little joy in someone's life," said Allison Sheets, NWPD patrol officer. "It goes to show you how police and citizens alike can come together to make a difference in someone's life. I hope it's a birthday that Evan looks back on and remembers joy instead of sadness."Brooke Horn, the wife of Rob Horn, a NWFD firefighter, says Evan loves to come to the fire station and see the equipment. Her husband was able to borrow the firetruck to make Evan's day that much better. "Seeing him smile yesterday was absolutely contagious," said Brooke.Felisha echoed those thoughts."Evan was speechless and the parade brought everyone to joyous tears," said Felisha.Speechless then, but not-so-much now. Evan is smiling and saying 'thank you' for the slam dunk of a "Jordan-year" birthday.Happy Birthday, Evan!Video contemplation courtesy of Jim Coleman
WILKES COUNTY, N.C. —
A smile that's face-wide, and doesn't hide his pride and stride. It's a smile that showed just how much a Wilkes County man enjoyed his 23rd birthday.
Evan Daemer celebrated his "Jordan-year" birthday on May 5. Unfortunately, the COVID-19 pandemic ruined other plans of celebration at Smoot Park. Evan usually has his birthday there every year and invites all his friends from school and Special Olympics.
None of that this year, but not having a birthday party wasn't an option.
Evan has down syndrome and birthdays to him are very special, his family says.
"Evan absolutely loves cars. He can identify the make and model of a car from miles away. We posted a Facebook status about everyone sending him birthday cards since we were not able to do a party. He received over 70 plus cards and packages," said Felisha Daemer, Evan's sister. "We then thought a car parade would be perfect for him."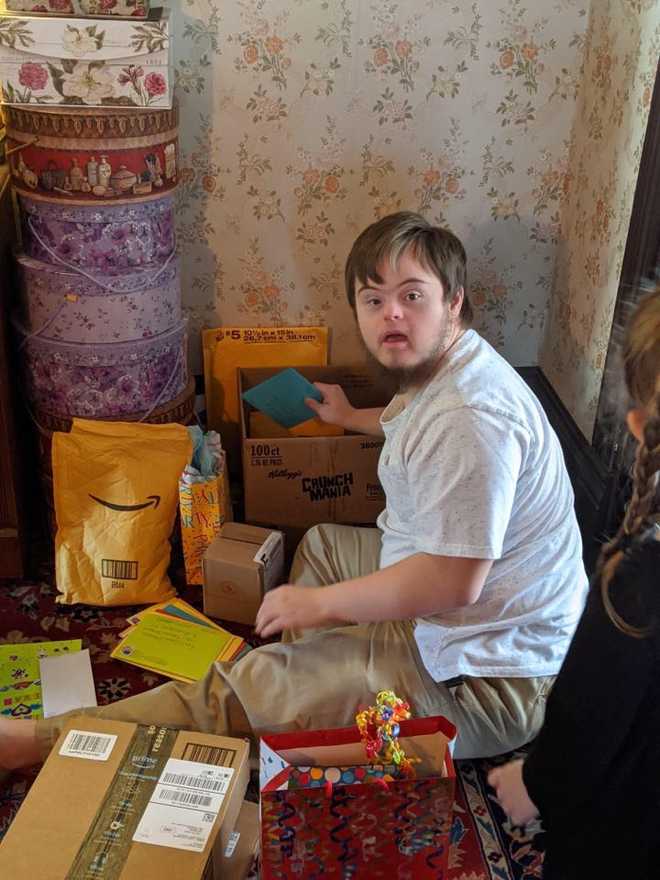 Evan receiving over 70 birthday cards for his 23rd birthday
The Daemer family says they had seen other families doing parades for their children's birthday; so, that gave them the idea to do the same.
"People showed up to the parade that we didn't even know," said Felisha. "They just saw the Facebook post and showed up! There were about 15-20 cars packed with people screaming 'Happy Birthday!' as they drove by. Evan was so happy to see everyone driving by and wishing him a happy birthday. He even cried from happiness."
For Malinda Reeves Church, who knows the family through her son, being there for Evan was emotional, heart-warming, and remarkable.
"Oh my goodness! I can still see that sweet smile and I get Jesus bumps," said Church. "A smart lady once told me that children with down syndrome know nothing but love. Evan is awesome and so is his family. I have a grandson, who will be five in November, and he too has down syndrome."
Officers from the North Wilkesboro Police Department and firefighters from the North Wilkesboro Fire Department all joined with friends and family members to celebrate in a car parade.
"This quarantine has been so rough on everyone. I can only imagine how tough it would be to have a birthday and not have friends and family to gather in celebration. I was happy to participate and help spread a little joy in someone's life," said Allison Sheets, NWPD patrol officer. "It goes to show you how police and citizens alike can come together to make a difference in someone's life. I hope it's a birthday that Evan looks back on and remembers joy instead of sadness."
Brooke Horn, the wife of Rob Horn, a NWFD firefighter, says Evan loves to come to the fire station and see the equipment. Her husband was able to borrow the firetruck to make Evan's day that much better.
"Seeing him smile yesterday was absolutely contagious," said Brooke.
Felisha echoed those thoughts.
"Evan was speechless and the parade brought everyone to joyous tears," said Felisha.
Speechless then, but not-so-much now. Evan is smiling and saying 'thank you' for the slam dunk of a "Jordan-year" birthday.
Happy Birthday, Evan!
Video contemplation courtesy of Jim Coleman
Source: CNN
Related Posts