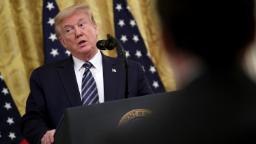 These twin gales are presenting older workers with an especially pointed version of the dilemma confronting Americans of all ages: How do they weigh the health risks of returning to work against the financial dangers of not doing so?
Seniors a crucial part of Trump's base
Those older whites have often proved a receptive audience for Trump's polarizing cultural messages on immigration and race. But the outbreak has, for now, presented older Americans of all races with far more immediate concerns.
While the social-distancing measures of March and April represented a "pause button" on the outbreak, says epidemiologist Jennifer Nuzzo, a senior scholar at Johns Hopkins University's Center for Health Security, "if we want to 'press play' at this point we have to recognize the virus is still out there … and for people who are in high-risk groups, they are equally at risk as they were before."
The combined effect of employers culling older workers first as they reduce their payrolls and older workers hesitating about returning to their jobs seems certain to stall or even reverse one of the most powerful labor-market trends over the past several decades: the increasing share of older Americans who are staying on the job, either because they want to or need to.
This trend has blown through the traditional retirement age: The share of adults 65-74 in the labor force increased by almost exactly half in those years, from 18% to 27%; even Americans over 75 increased their labor market presence from 5% to 8%.
Employment trend under threat
The graying tint of the workforce has reflected both need and desire. Surveys have found that many baby boomers, particularly in white-collar professions, enjoy working at advanced ages and find it gives meaning and structure to their lives, notes Jacquelyn B. James, co-director of the Center on Aging & Work at Boston College. But necessity, she says, is also driving the trend. While "there are also all kind of other positives that go with work," James says, "we also see when people can afford to retire, they usually do."
Now this long-term shift toward longer working lives is threatened from both sides of the employer-employer relationship.
As April's surge in senior unemployment suggests, employers may be looking first at older workers as the pandemic requires them to reduce their payrolls.
"I think that is a high probability because if past is prologue, employers, when they have had to structure layoffs, have been more likely to look to the older worker," James says. During downturns, she says, employers often believe older workers "are almost ready to go anyway and younger people need the jobs."
The prospect that employers will use the downturn to push out older workers is the principal concern of the AARP, the huge lobbying group for Americans over 50.
"I don't want this to be an opportunity to extend age discrimination," says Susan Weinstock, the group's vice president for financial resilience programming. "This should be based on health rather than an arbitrary cutoff based on age."
Risks if they return, risks if they don't
Whether or not older Americans return to work in numbers comparable to younger ones, the movement to reopen the economy could expose seniors to the greatest risks, Nuzzo notes. With young people likely to move back into society more quickly than older ones, she says, younger generations may compose a slightly higher share of the people who are infected in the next few weeks.
But because the disease has been so much deadlier for older people especially with underlying health problems, she believes it is unlikely the age distribution of the death count will change much. That means that if loosening social distancing swells the overall infection rate, as most experts expect, older people will stay pay the highest price in morality, even if they are circulating in society less than their younger counterparts.
"The studies have consistently shown that advanced age and underlying health conditions are highly associated with severe illness and death, so I don't expect the ratios to change precipitously or invert," Nuzzo says. "If there are more cases in the community every time that one old person has to go and get to the grocery store, there still is an opportunity" to become infected.
No consistent policy has emerged in these states on whether to exempt workers who may be at greater risk from the disease, either because of underlying health conditions or age.
The Georgia Department of Labor is deciding such claims on a case-by-case basis, says Kersha Cartwright, a spokeswoman there. "Feeling unsafe is not a valid reason" to reject employment, she says, but "some of these special circumstances might make it a valid reason."
In Tennessee, the state "has not explored specific exemptions for older workers who are required to return to work after a temporary layoff due to COVID-19," Chris Cannon, assistant administrator at the state Department of Labor and Workforce Development, says in an email.
Both Iowa and Texas received enough "pushback" over their initial policies to issue subsequent guidance indicating that older workers would likely be exempted, says Michele Evermore, a senior policy analyst at the National Employment Law Project. But she argues that older workers are more likely to hear the stark initial message from governors and other state officials than to hunt down the technical legal guidance now buried on state employment websites.
"Workers are just going to see this and consider it an order and not challenge it," Evermore said. "Getting states to walk back this messaging is a little bit like closing the barn door after the horse is out. Once people have heard from the governor you have to go back to work, and then they issue on their website somewhere FAQs [frequently asked questions] that slightly soften that, does that reverse the initial damage? I don't think so."
A challenge for Trump
The health and financial strains converging on older Americans have become a source of political stress for Republicans. In every presidential race after 2000, the GOP has enjoyed double-digit advantages among white seniors, who have proved a receptive audience to conservative GOP cultural messages.
"This is not quite the same culture war," Gourevitch said. "This isn't like football protests. This is like life and death, health and jobs stuff, and that doesn't exactly align with outrage and culture wars."
Source: CNN
Related Posts