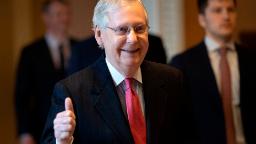 "I think President Obama should've kept his mouth shut,"
McConnell said on a Trump campaign live-stream event
of the
former president's critique
of how President Donald Trump has handled the coronavirus pandemic. "I think it's a little bit classless, frankly, to critique an administration that comes after you. You had your shot. You were there for eight years. I think the tradition that the Bushes set up — of not critiquing the president who comes after you — is a good tradition."
Look. There's a bunch of problems with what McConnell is saying. Let's go through them.
First — and most importantly — since we are on the topic of political traditions, it's long been a tradition that the current president doesn't personally attack the person who came before him.
Sure, Obama talked about how he inherited a tough economy from George W. Bush. But he didn't go after Bush personally in any way, shape or form.
Third, McConnell, who has been around politics for a very long time, should know better than to tell the first black president to keep his mouth shut. Even if McConnell meant nothing by it, it's not a good look.
In short: What Trump, McConnell and the rest of the GOP want is for Democrats to play by the long-established rules even as the President cavalierly breaks those same rules. It's like playing a basketball game and demanding that the refs only call fouls for one side — and then insisting that this is the only fair way that things can be done.
It's all, well, a little much. You don't get to throw mud and then get mad when a little gets slung back at you. McConnell, of all people, knows this. Or at least should.
Related Posts